Do you know a student who may be interested in working with a mentor? Submit their name here to connect them with program information! Students are also encouraged to nominate themselves.
Want To Be a Peer Mentor?
Peer mentor recruitment takes place during the Spring semester. Information on applications and voluntary information sessions for applicants will be added here as it is finalized.
Want To Have a Peer Mentor?
Applications are open in the summer and early Fall semester for first-year undergraduates interested in being matched with a peer mentor. Apply now or any time until the deadline on 9/9 at 11:59pm!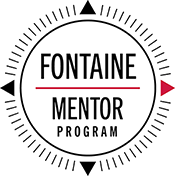 Questions about the Fontaine Mentor Programs?
Please call the UHC Health Promotion Department (706-542-8690) or email Kelly Truesdell.