Relationship and Sexual Violence Prevention
Support • Information • Advocacy

We provide free advocacy and support for students impacted by sexual assault, relationship violence, domestic violence, stalking, sexual harassment, and other related experiences. Advocacy is a safe and confidential starting point for any student impacted by these issues. Meeting with a trained advocate does not trigger any investigation or formal reporting or complaint process.
Located in the University Health Center, Health Promotion Department, RSVP Services are FREE and CONFIDENTIAL.
What happened to you was not your fault. We believe you and are here to help.
Prevention • Education • Outreach
RSVP can also facilitate and/or co-sponsor interpersonal violence Prevention, Education and Outreach programs for the campus community including professors, student groups, Resident Assistants (RAs), faculty/staff, professionals and all students.
Topics include but are not limited to Interpersonal Violence 101, Healthy Relationships, Domestic Violence Escalation, and Consent. Request a program.
RSVP can also provide UMatter Bystander Intervention Training to help you recognize potentially risky situations and teach you skills to intervene safely and effectively. Request a UMatter program.
For any questions or general information, please call 706-542-8690.
We're here to help! Please fill out this CONTACT FORM to send us your information and nature of your request, and one of our professional advocates will be in touch soon.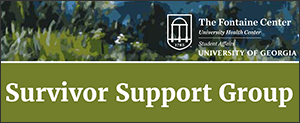 This is a safe space for student survivors of sexual and/or relationship violence to talk with and receive support from other survivors, led by an advocate from the RSVP office. *FREE & CONFIDENTIAL*
Topics: Stress & Coping, Emotion Regulation, Healthy Relationships, Sleep, Healthy Eating & Exercise