BE WELL PEER EDUCATORS: PEERS FOR ALCOHOL & OTHER DRUG EDUCATION​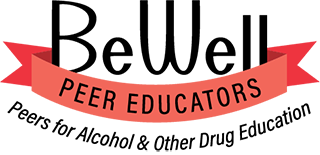 Who are we?
The Be Well Peer Educators: Peers for Alcohol and Other Drug Education (PADE) represent the Fontaine Center by providing students with alcohol and other drug prevention messaging and empowering students to make informed decisions about substance use while at UGA.  PADE members understand that students make a variety of choices regarding substance use and help students gain essential skills to decrease the risk of negative consequences in an environment where alcohol or other drugs may be present. Members host a variety of workshops, educational programs, and substance-free events for the campus community.

The group consists of approximately 15 students from the University of Georgia and meets regularly twice per month.
What do we do?
Last year we hosted a number of educational events on campus to promote harm reduction strategies, including:


Host Fontaine Center tailgates to provide a substance-free environment for students and help promote harm reduction strategies on Game Days
Develop health communication programs to disseminate
Fontaine Center messaging
Develop social marketing campaigns to promote alcohol-free events within our community
Plan and implement educational outreach events to promote risk reduction strategies including Fall Break & Spring Break events
Facilitate residence hall presentations
Collaborate with a number of campus partners and student organizations to implement alcohol-free events (ex. Ramseypaloosa)
What's in it for you?
Help shape the future direction of alcohol and other drug prevention
Provide thoughts and ideas about how to reach UGA's unique student population
Contribute towards making your campus a better, safer place to be
Professionally represent the University Health Center
Gain leadership opportunities, public speaking experience, and create social marketing campaigns
For questions about the group, the application process, or membership requirements, please contact the group's advisor, Kelly Truesdell: ktruesdell@uhs.uga.edu.
Gabby

Buttry
Alcohol & Other Drugs Well-Being Coordinator
University Health Center
Work
55 Carlton Street
GA
Athens
30602
work
Work Phone
:
706-542-8690
work
Work Email
:
contact@uhs.uga.edu
INTERNET
Biographical Info
Graduated from UGA in 2022 from the College of Public Health. In this role, she will be providing alcohol and other drug education/outreach on campus and organize substance free alternative events on campus. In addition, she will help advise the Fontaine Peer Educators. When she's not studying and learning about alcohol and other drug trends, she's cooking or exploring fun coffee spots around Athens.
Categories:
Health Promotion