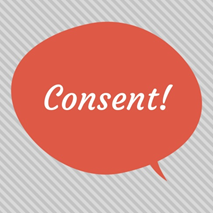 Consent is a voluntary, sober, imaginative, enthusiastic, creative, wanted, informed, mutual, honest, and verbal agreement
Consent is an active agreement: Consent cannot be coerced
Consent is a process, which must be asked for every step of the way; if you want to move to the next level of sexual intimacy, just ask
Consent is never implied and cannot be assumed, even in the context of a relationship. Just because you are in a relationship does not mean that you have permission to have sex with your partner
A person who is intoxicated cannot legally give consent. If you're too drunk to make decisions and communicate with your partner, you're too drunk to consent
The absence of a "no" doesn't mean "yes"
Both people should be involved in the decision to have sex
Consent is an important part of healthy sexuality
How do Dawgs get Consent?
"I make consent sexy by having a conversation with my partner about our sex life. This includes talking about: what I do and do not feel comfortable doing, any health concerns we might have, using protection, and the importance of being honest with one another. Communication is the key!"
"Talking about it before it happens."
"Always respect what people want — and start doing this by first making sure everyone's wants are out in the open!"
"By waiting for him to get that special look in his eye and ask me first."
"Communicating with your sexual partner, which shows them that you respect them and that you're being honest and open."
"Mutual respect, honor, appreciation, intimacy, foreplay, understanding, communication, dialogue"