BE WELL PEER EDUCATORS: SAFER SEX AMBASSADORS​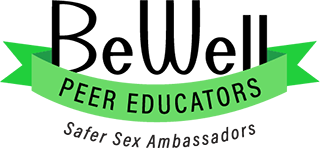 What we do
Safer Sex Ambassadors plan, organize, and coordinate sexual health outreach programs on campus. SSA members provide peer education programs on condom use, STI and HIV education, contraceptives, and communication. These students demonstrate comfort and compassion in discussing sensitive issues. They stay abreast of current sexual health issues in pop culture and aim to help their peers make informed decisions about their sexuality.

To request a program by the Safer Sex Ambassadors, fill out the online program request form.

For questions about the group, the application process, or the membership requirements, please email Kelly Truesdell, ktruesdell@uhs.uga.edu.
Why Become a Safer Sex Ambassador?
To share your passion for sexual health with others.
To educate and empower your peers on healthy sexuality.
To contribute to the growth of the university's sexual health programming.
To develop better public speaking and facilitation skills.
Membership Requirements
Attend two trainings in the fall semester.
Participate in bi-weekly meetings.
Facilitate four events on campus.
Attend one #BeWellUGA event.
Membership Responsibilities
Raise awareness of related University Health Center services
Educate peers about STI & HIV education, contraception, and communication
Demonstrate the proper use of barrier methods as a means of risk reduction
Provide free safer sex supplies on campus
Promote reliable sexual health websites and resources
Create print and social media messaging promoting safer sex awareness
Collaborate with other University Health Center student groups
Preferred Qualifications
Strong public speaking skills
Comfort with discussing sensitive issues
Ability to professionally represent the University Health Center
Understanding of campus climate surrounding controversial issues
Demonstrated commitment to social justice, cultural competency, and/or nurturance of traditionally underrepresented populations
How to Apply
Check back in April for the online application to join!