Physical activity is a key component of a healthy lifestyle. Here are a few reasons why: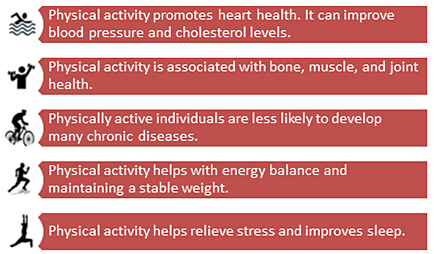 How to Get Started With Exercise…and Keep it Going!
All adults should aim for about 150 minutes a week of moderate-intensity exercise. Aerobic activity can be done in 10 minute spurts and should be spread evenly throughout the week.

Variety – Enjoy different activities to exercise different muscle groups. Walking, dancing, swimming, biking, jogging, stretching, group fitness classes and housework are examples of ways to get some activity in your life.

Balance – Do some cardiovascular endurance exercises as well as muscular strengthening activities. Make sure to stretch!

Moderation – Don't overdo it. Aim for 30 – 45 minutes of moderate exercise in your daily routine most days of the week.
Ideas for Keeping Active:
More Information on Physical Activity