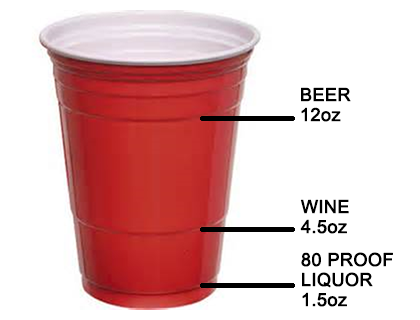 In the United States, one standard drink equals:
12 ounces of beer
4-5 ounces of wine
1.5 ounces of 80 proof hard liquor
Use the lines on a 16-ounce solo cup as a guide to measure standard drinks.
National Institute on Alcohol Abuse and Alcoholism – College drinking (2007, July 12). Tips for cutting down on drinking.

Blood / Breath Alcohol Concentration (BAC) is the amount of alcohol found in the bloodstream or on one's breath. BAC can be measured by breath, blood, or urine tests.
The number of drinks consumed by any individual is a poor measure of intoxication because of variation in the physiology and individual alcohol tolerance.
BAC can be impacted by the following effects:
Biological assigned sex: Typically, women have less dehydrogenase, a liver enzyme that breaks down alcohol. Additionally, women have lower total body water content than men. Also, a woman's ability to metabolize alcohol can be affected by her menstrual cycle due to higher levels of estrogen. All of this contributes to higher concentrations of alcohol in a woman's system even if she is drinking the same amount of alcohol as a male counterpart.
Emotional state: Alcohol impacts the levels of serotonin and other neurotransmitters in the brain, which can cause an increase in feelings of anxiety and depression.
Energy Drinks: Combining alcohol with energy drinks may give people the "sensation" of reduced alcohol effects but it does not alter BAC  (may not feel as intoxicated as you really are).
Amount of food consumed: Having food in your stomach can slow down the absorption of alcohol. It is recommended that individuals eat balanced meals (protein, fat and carbs) to fuel the body and slow down alcohol absorption.
Any additional drugs or medication taken, including over the counter medication.  Follow guidelines and warnings on labels and prescriptions related to alcohol consumption.
A person's BAC can continue to rise even while he or she is passed out. Even after a person stops drinking, alcohol in the stomach and intestine continues to enter the bloodstream and circulate throughout the body.
Time is the only factor to lower one's BAC.
Coffee, cold showers, and eating food after alcohol has been absorbed into the blood system does not change a person's BAC.
ALCOHOL POISONING: KNOW WHAT TO DO
Alcohol poisoning is a medical emergency. Get to know the signs and what you can do in the event that you encounter someone experiencing alcohol poisoning.
Source: The National Institute for Alcohol Abuse and Alcoholism, www.collegedrinkingprevention.gov